Ener Saver (Thailand) Company Limited is a privately owned business that provides innovative energy saving solutions for homes, hotels and hospitality businesses – resulting in cost-effective energy consumption and reduced negative environmental impact.

From its simple beginnings in a home garage, Ener Saver has evolved into a team of highly specialized, accomplished engineers and technical personnel. Electronic, mechanical and microcomputer science experts work together to invent and create products that are easy to operate, economical and adhere to the highest standards of design technology, quality and durability.

Year upon year, we continue to make substantial investments in research and development to find new and improved ways for our clients to reduce and save on energy costs while maintaining a high level of comfort to our customers and their guests at the same time.

In developing the country infrastructure and increasing business potential, Thailand has drastically increased its consumption of natural resources. As a direct result of this growth, the government has constructed and used more power plants to generate sufficient electricity for households, factories and hospitality businesses, namely hotels, resulting in a sharp increase in energy consumption that, in turn, results in deforestation and other adverse environmental woes.

This increase in consumption puts a heavy strain on the country's natural resource supply and increases the risk of depleting reserves. Thailand has to conserve its natural resources, with particular attention being directed at conserving energy. This is the most fundamental physical resource and the basis of our industrialized culture. We must seek effective alternatives now before we diminish our reserves and it is too late.

To continue developing and creating high-quality, user-friendly and durable energy saving devices using the latest technology to reduce electricity bills for our clients while providing uncompromising comfort for their residents and guests.

Best Electrical Machine and Electrical Control System" in 1989 by Economic Path Newspaper, Thailand. 19 September 1989.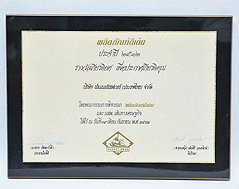 Honorary Award "Best Product" by Economic Path Newspaper, Thailand. 1989